Fairy Cakes Recipe Ingredients: 100g Self Raising Flour 100g Soft Margarine 100g Caster Sugar 2 Eggs Time 30min – Serves: 8 Fairy Cakes Recipe Instructions: Place all the ingredients in a large bowl and mix for about 2-3 minutes until well combine t...
Read More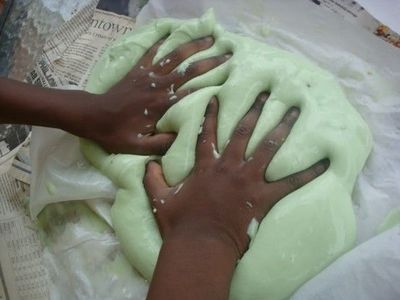 Gloop Recipe Ingredients 2 cups cornflour 1 cup cold water Instructions Pour the cornflour into a bowl. Add the cold water slowly, stirring constantly and stop when the water is barely absorbed by the cornflour. The resulting solution is fascinating to pl...
Read More
Pasta Carbonara Diced Smoked Bacon Diced Soup Mix(veg) Milk Flour (to thicken) Mixed Lentils Spaghetti 1 Fill pot half way with cold water 2 Add chopped bacon, soup mix and lentils to water, bring to boil & reduce heat. 3 Add spaghetti to pot & fi...
Read More
Chilli Con Carne Minced Beef Diced Soup Mix (veg) Kidney Beans Mixed Herbs Garlic Puree Long Grain Ricel Cornflour (to thicken) 1 Fill pot with cold water. 2 Add minced beef, herbs, diced mixed veg and garlic puree, bring to boil and reduce heat. 3 Strain...
Read More
Sausage Casserole Breakfast Sausages Diced Soup Mix (veg) Mashed Potato Chicken Gravy Italian seasoning 1 Fill pot three Quarters full of cold water. 2 Add sausages to pot and bring to boil, remove and cut into bite size pieces. 3 Add diced soup mix &...
Read More
Crispy Crunchy Biscuits Preparation time: 20 minutes Quantity: Makes 9 or so Cooking time: 12 minutesIngredients 100g / 4 oz butter – softened 150g / 6 oz plain flour 50g / 2 oz caster sugar Method Cut the butter in to small cubes sift the flour in ...
Read More
Chicken & Tomato Pasta Chicken Breasts Penne Pasta Diced Soup Mix (veg) Chopped Tomatoes Mixed Herbs Tomato Puree Dried Basil Cornflour (to thicken) 1 Fill pot with cold water. 2 Add chicken breasts to pot, cook thoroughly remove & chop. 3 Add dic...
Read More
Here at Rathfarnham Day Care, we promote healthy nutritional choices for our children. We feel it is important at this young age to introduce and educate our children about good nutrition and the health benefits of eating well. We provide healthy meals an...
Read More